I don't need to tell you that a fire place is a focal point in a room. In a rustic lodge, there has to be at least one fireplace. But you know that, too. Instead of my blathering on stating the obvious about fireplaces, let's look at some inspiring photos from around the web, shall we? (And at the end I'll give you a link to hundreds of fireplace designs, and the source for many of the photos in this post.)
Here is a bold statement - the stone and timbers are so massive that the furniture looks child-sized!
Source unknown
This one appears to be made from just a few massive stones.

Whereas these river rock or field stone fireplaces always seem to me to be a cross between a jigsaw puzzle and works of art. (I remember watching the mason who built the fireplace in my girlhood home spend many days arranging the stones on the floor until he was satisfied with the design before he even began construction.)
Fireplaces aren't often placed in a corner, and I had my doubts that a corner fireplace would work until I saw these examples: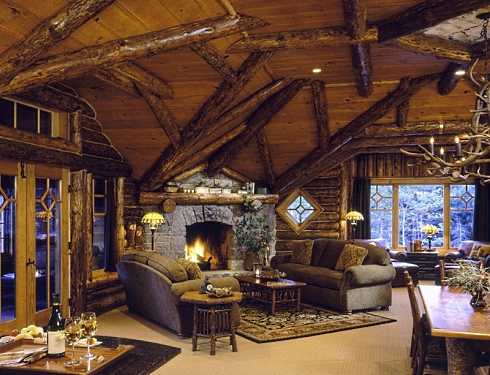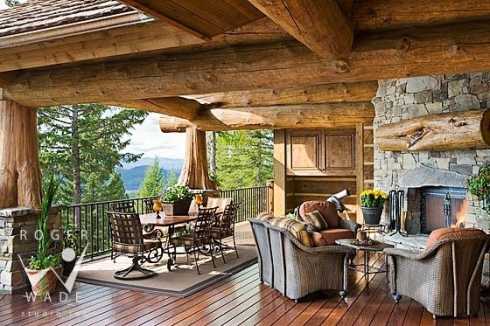 It has always seemed to me to be the ultimate luxury
to have a fireplace in the bedroom or a bathroom.
Source: Country Living
Source High Camp Home
These last fireplaces are by master stone artisan, Lew French. I love the driftwood mantel!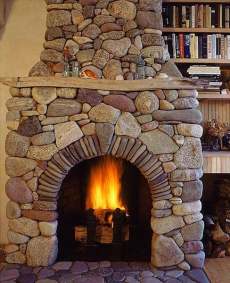 Amazingly, none of these stones are cut!
This video shows more of this incredible artist's work:
If you want to find an unbelievable resource for fireplace styles, click on
Fireplace Designs
.
Have a photo, link or fireplace idea you'd like to share? Do comment.