I love dishes! If I had unlimited space I'd have several patterns and, ideally, mix and match them for fun. In a rustic cabin or lodge the style of dishes can be classic, whimsical, or casually collected.
These ski plates and pole bowls would be great at a mountain lodge in winter:
Eclectic Dinnerware design
by
Bedding And Bath
Garnet Hill
I really like these Animal Print Dessert Plates (available from Target and part of the Patch NYC collection).
Target also has dessert bowls in the same animal print theme with a woodpecker, stag, fox and owl motifs.
Source: Target - Patch cereal bowls
Traditional dinnerware designs always seem to be appropriate in a rustic lodge. Here are some examples that I think are beautiful.
The Spode company has a "Woodland American Wildlife Collection" which includes elk and birds. Spode also makes the eternally classic blue and white "Willow ware".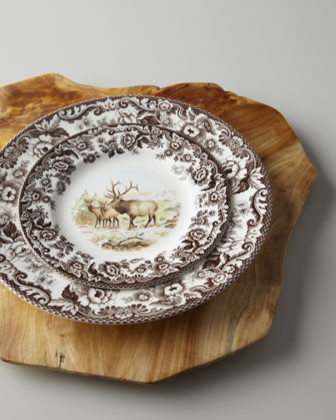 A lot of people find pine cone and bear designs on their rustic lodge style dishes or dinnerware to be appealing.
Then again, one can always use paper plates!